It's unlikely for you to hear someone being a professional sleeper or a pet food tester during reunion parties when being asked "What do you do?". The most common answers are usually a teacher, doctor or a lawyer. Although odd, these 17 unusual jobs come with handsome pay.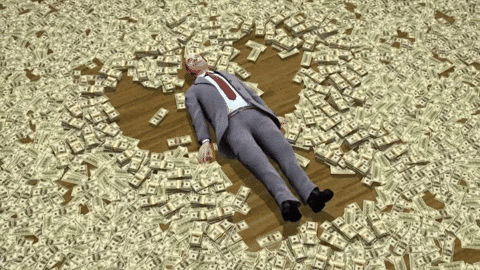 Horse Exerciser / Hippotherapist
Annual Salary: $50,000 to $70,000
Although the job title doesn't sound that unusual, becoming a horse exerciser can earn you a lot of money. Ka-Ching! The job primarily has you responsible for training or conditioning the horses and prepare them for upcoming horse races. Meanwhile, hippotherapist ('hippo' means horse in Greek) is a kind of therapy that utilises horses to treat patients with physical and mental disorders.
Panda Fluffer
Annual Salary: $22,900 or more
Have you watched a video of a panda caretaker in China playing around with baby pandas then you feel all envious and wishing that it was your job instead? Well, a panda fluffer's job is a little bit tricky as you need to get these fluffy shy animals in the mood to mate considering their lazy or unwilling to mate nature.
Professional Mourner
Per Hour Earning: $45 onwards
Listed as one of the unusual jobs, who could have thought that a professional mourner is a real job right? If you're the type to weep easily, forget being an actor or actress; this job might be the one for you!
Professional Sleeper
2 Months Earning: $18,000
I might sign this up for myself too! Did you know NASA had post job ads looking for volunteers to become their professional sleeper? The job is to help study the effects on the human body of lying still for a long time. The pay is a catch too!
Pro Queuer
A Day Earning: $100 onwards
People pay other people to queue on behalf of them. Sounds crazy? Not quite. So if you think you're an extremely patient person or you just don't have better things to do or you just want to earn extra money, being a pro queuer might just be the right side gig for you.
Acoustics Consultant
Annual Salary: $18,000 or more
I know all of you must've been wondering what is an acoustics consultant and you're not alone because same here! Considered as one of the unusual jobs, it requires one to measure how different materials react to noise vibrations such as in the office meeting room etc. 
Golf Ball Diver
A Day Earning: $150 onwards
If you don't have what it takes to become the next Tiger Woods, it's okay! You can be a golf ball diver and no, you're not diving to explore the beauty of the underwater world but your job is to retrieve golf balls instead. Beware of alligators or poisonous water snakes as well!
Certified Ethical Hacker
Annual Salary: $157,000 or more
Now everyone can be a professional hacker lawfully and legitimately by intentionally assessing the security stance of any targeted system to seek for any weaknesses. Being one of the unusual jobs out there, make sure to put your hacking talent to good use!
Ice-Cream Taster
Annual Salary: $40,000 to $100,000
Is ice-cream your all-time favourite dessert? Or do you have killer taste buds? Also known as a food scientist or taste master, you are getting paid big money to help taste-test a variety of ice-cream on its appearance, smell, taste and also its texture. An unusual job indeed yet sounds so dreamy!
Crime Scene Cleaner
Annual Salary: $50,000 to $76,000
This unusual job isn't for the faint-hearted or easily squeamish person, because even police officers can't stand it. That's why they need a hardcore person like yourself to clean up the mess like the blood or body remnants and other squeamish-worthy stuff.
Master Sommelier
Annual Salary: $80,000 or more
So you love everything between wine and food pairing, why not sign up to be a master sommelier? Although considered as one of the unusual jobs, it is considered a well-respected work that comes with handsome pay. You also get to travel to vineyards across the world to identify the perfect wine and not to forget working in a high-end restaurant.
Pet Food Tester
Annual Salary: $34,000 to $100,000
Would you taste your cat or dog food for a living? It may sound a bit wack for a person to do so, but this unusual job is considered a highly-skilled one. Your everyday job includes smelling and tasting the kibble to test its flavour and texture to fit our pets' appetite. But fret not, you can spit it out afterward!
Water Slide Tester
Annual Salary: $30,000 or more
This is the ultimate dream job if you ask me. Not only the job requires you to go back and forth testing both the fun and safety of the water slide, you also get to travel the world and stay in lavish 5-star hotels as a water slide tester.
Embalmer
Annual Salary: $45,000 or more
An embalmer is not just a job for anyone, but it offers pretty decently earning don't you say? This job requires you to prepare the body of the dead for the final look from family members. Preparations include applying makeup or disguising the body's physical appearance to a much decent looking one.
Professional Snuggler
Per Hour Earning: $60 onwards
Some say it's considered as a rewarding job, some just disagrees with the idea of it. Which one are you though? This unusual job is platonic and it offers companionship for those in need. You will work with people of all ages, races or backgrounds and just snuggles every hour of the day.
Human Mannequin
Per Hour Earning: $300 onwards
Being a human mannequin sounds fun as you get to play dress-ups as an actual legitimate career, but it comes with a price. Like a runway model, you will need to stay in shape and is advised not to gain weight even an inch to maintain the ideal shape of a fitting model which includes your posture and ideal proportions. Despite the struggle, it's definitely worth the earnings, I'd say.
Professional Bridesmaid
Per Hour Earning: $100 onwards
Be it forgetful friends or just wanting to become a reliable support for the bride (#girlpower), a professional bridesmaid is not just a bride's maid during the special day. If any problem occurs, sometimes you will need to replace the absent DJ, act as the usher and even be the photographer or videographer. It's a challenging gig for sure.
Here in Malaysia, some of these unusual jobs are considered non-existent. However, are you willing to take a chance and opt for one of them as your career option? Let us know your thoughts on the comment section below. Head over to Jobstore.com for career insights, job opportunities and more! 
---
Nurin Eznieka is a digital content writer who writes about lifestyle, tips and tricks, including career-related contents both in Malay and English languages. Nurin is a foodie who enjoys food hunting and cafe hopping during her free time.
Reach me at: nurin@jobstore.com